It's come a long way. Full physical prototype, new electronics, new PCBs! Deviating from the original prototype, here are the alterations:
Stepper motors instead of servos. My servos from HobbyKing arrived while I was on vacation...and were returned to sender. Instead of waiting 6 weeks for them to be returned and then another 6 weeks to be shipped back I just canceled the order. I was worried about the response time and noise factors as well. Instead i opted for 400-step 68 0z-in stepper motors from Sparkfun. These sport 0.9 degrees per step, and can be microstepped to 1/32 of a step with this low-voltage stepper driver from Pololu. With incredible resolution, the motors draw a lot of power (up to 1.7A each) and weigh quite a bit compared to servos. I ordered breakouts for testing in the PCB stack below and incorporated the drivers in the new PCBs. The control scheme is also much simpler! Only two pins per motor!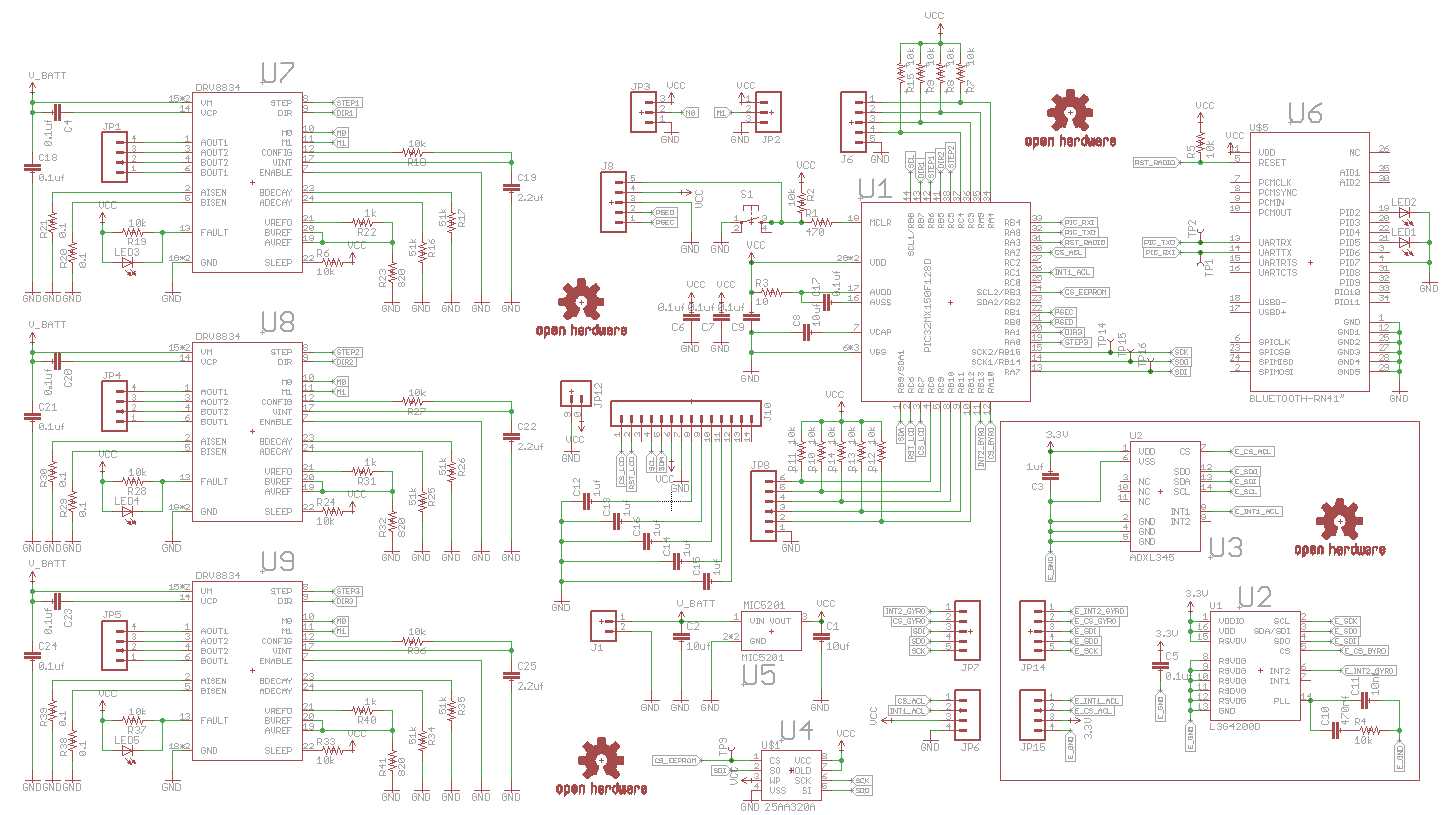 New PCB. Incorporating the stepper drivers was necessary, and they need heatsinking to sustain peak currents on the stepper motors, so I increased the PCB size to accommodate. I'll need to find some small heatsinks for the driver ICs. The other major change was separating the IMU sensors from the rest of the board: they are meant to attach to the camera via hotshoe and have a tether back to the main PCB. The sensor board can be seen in the lower left of the photos and lower right of the schematic, it's super tiny and meant to be cut off after prototyping. Also, I was able to remove the 5v regulator and transistors to reduce component complexity. The last change was to slim down the PCB to fit on the back of the frame.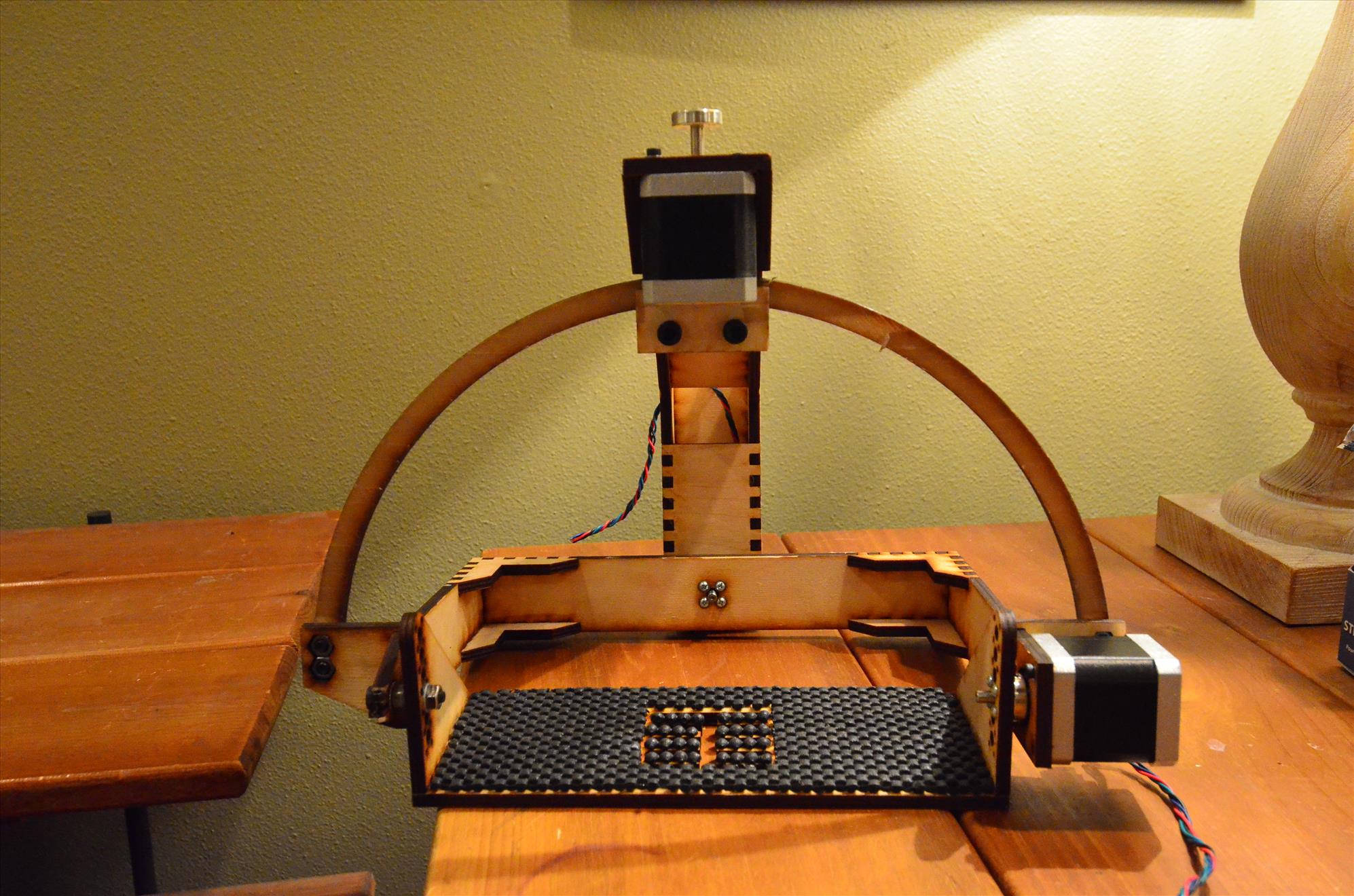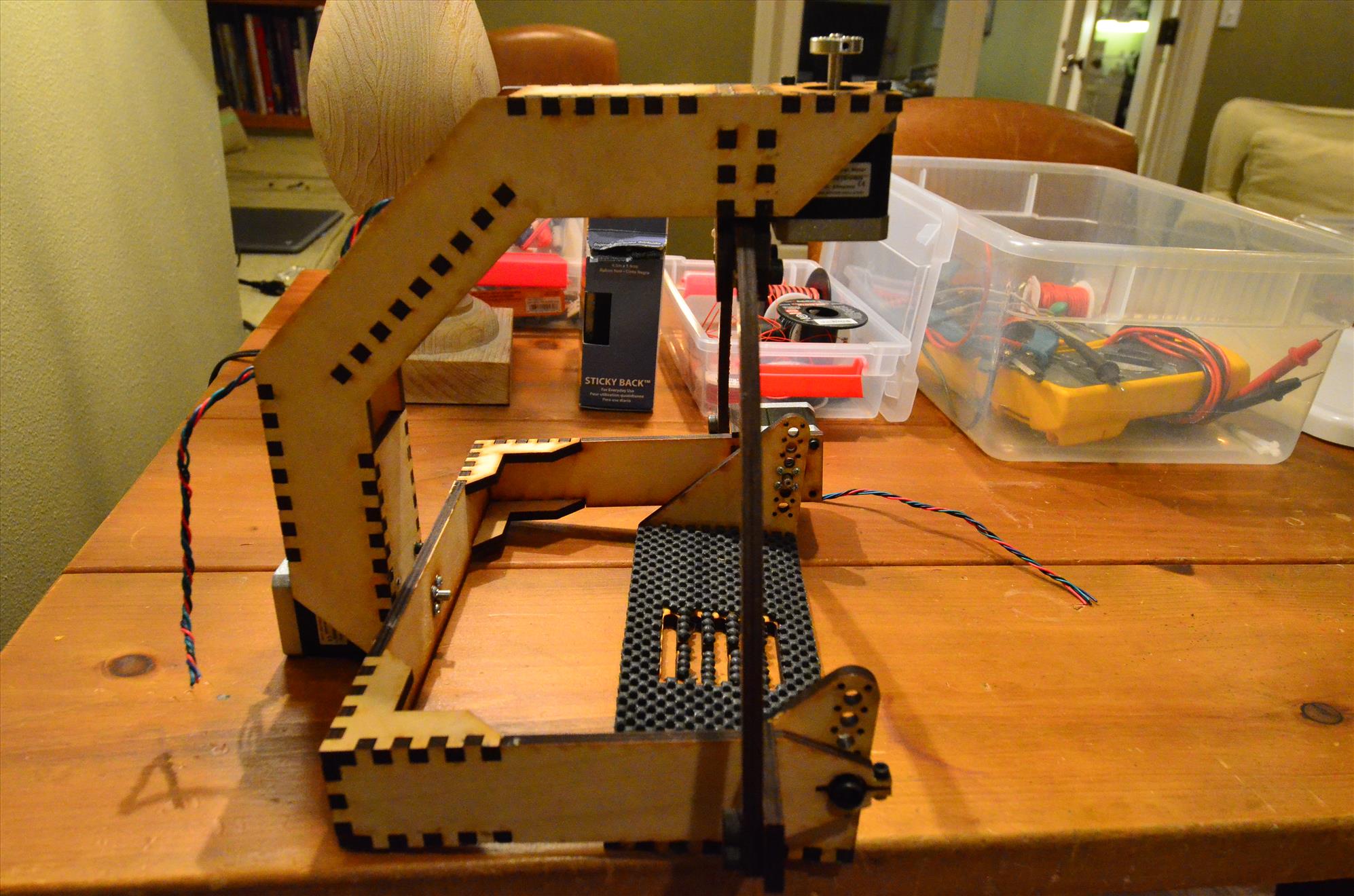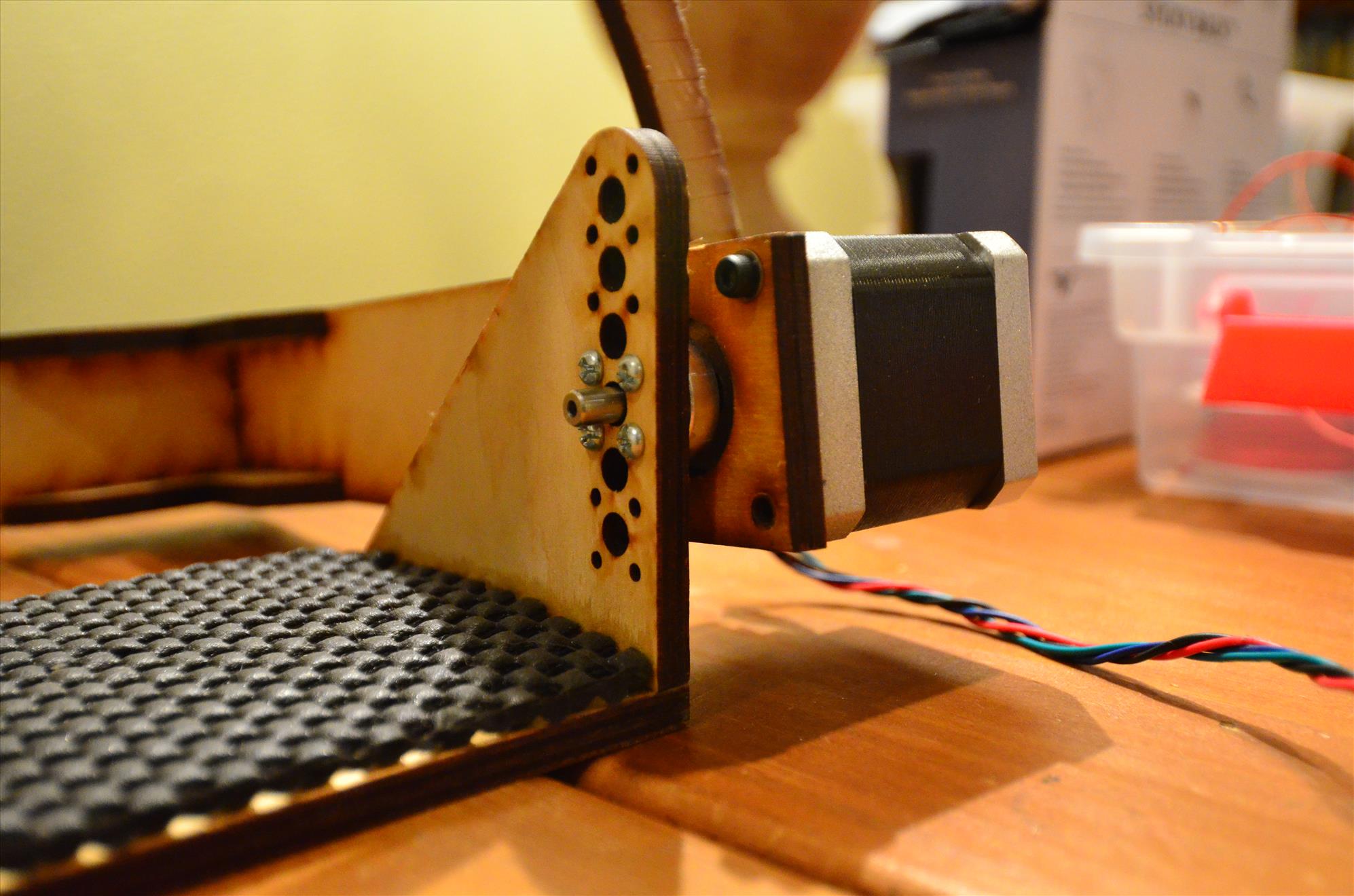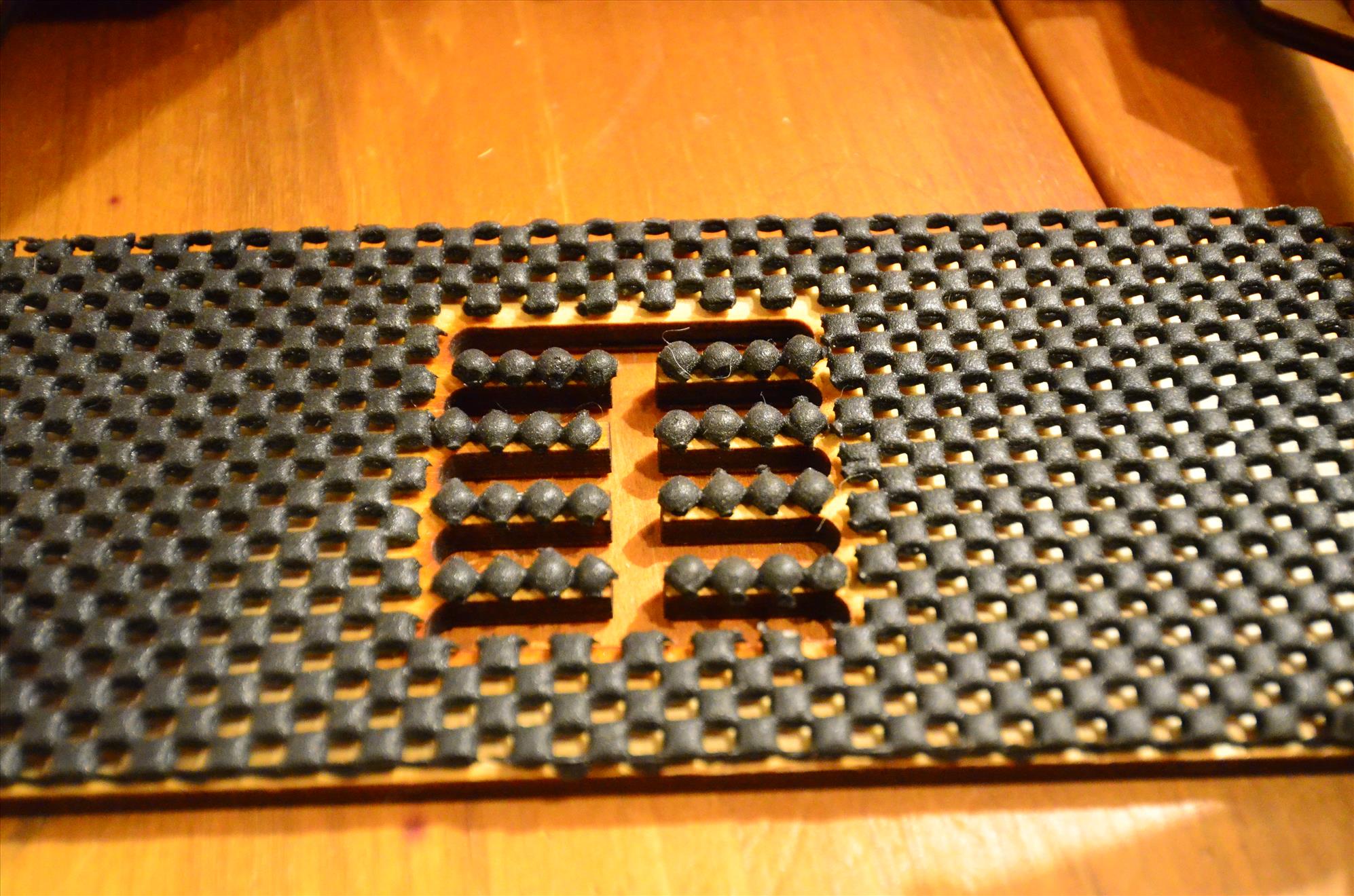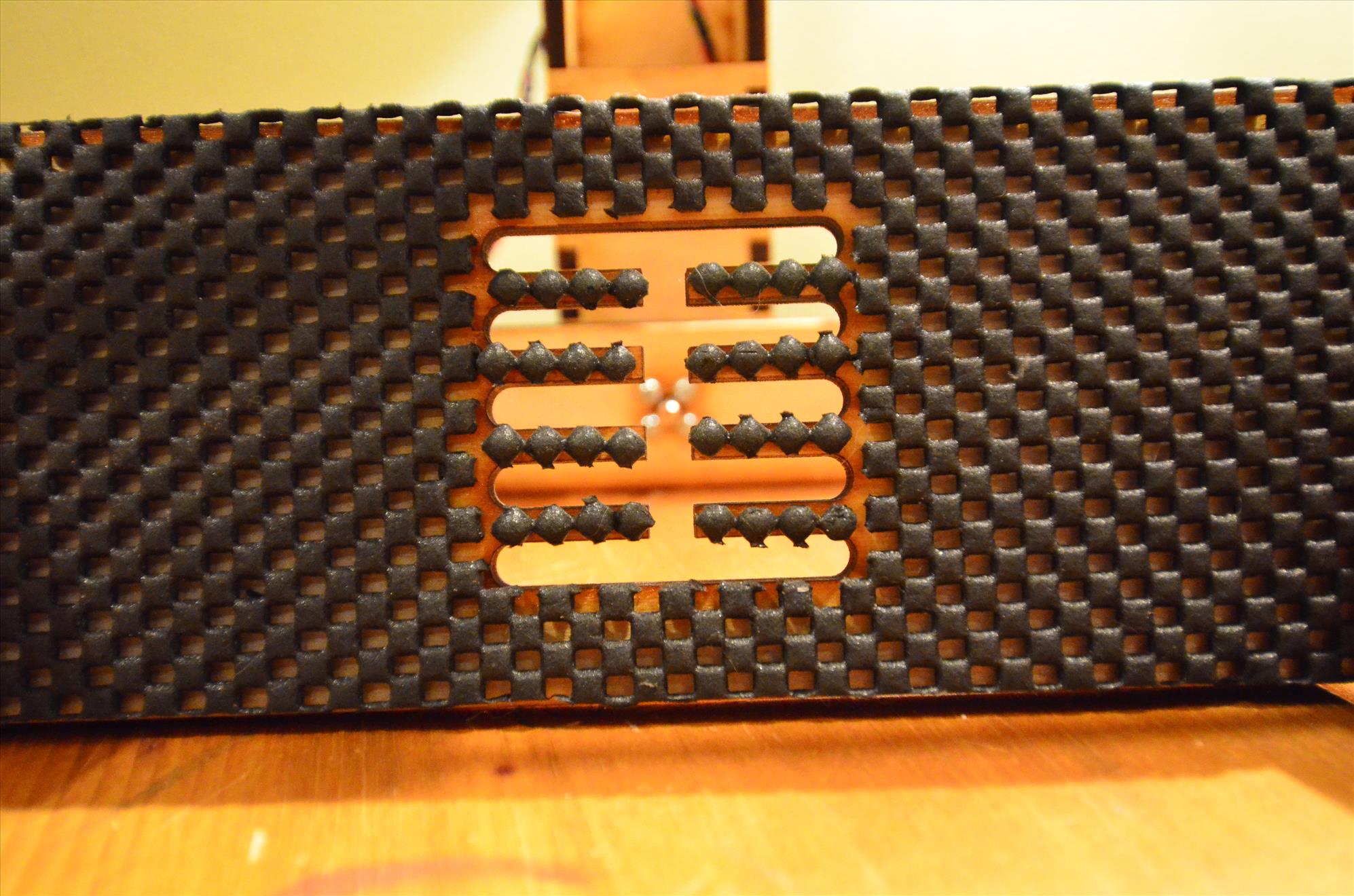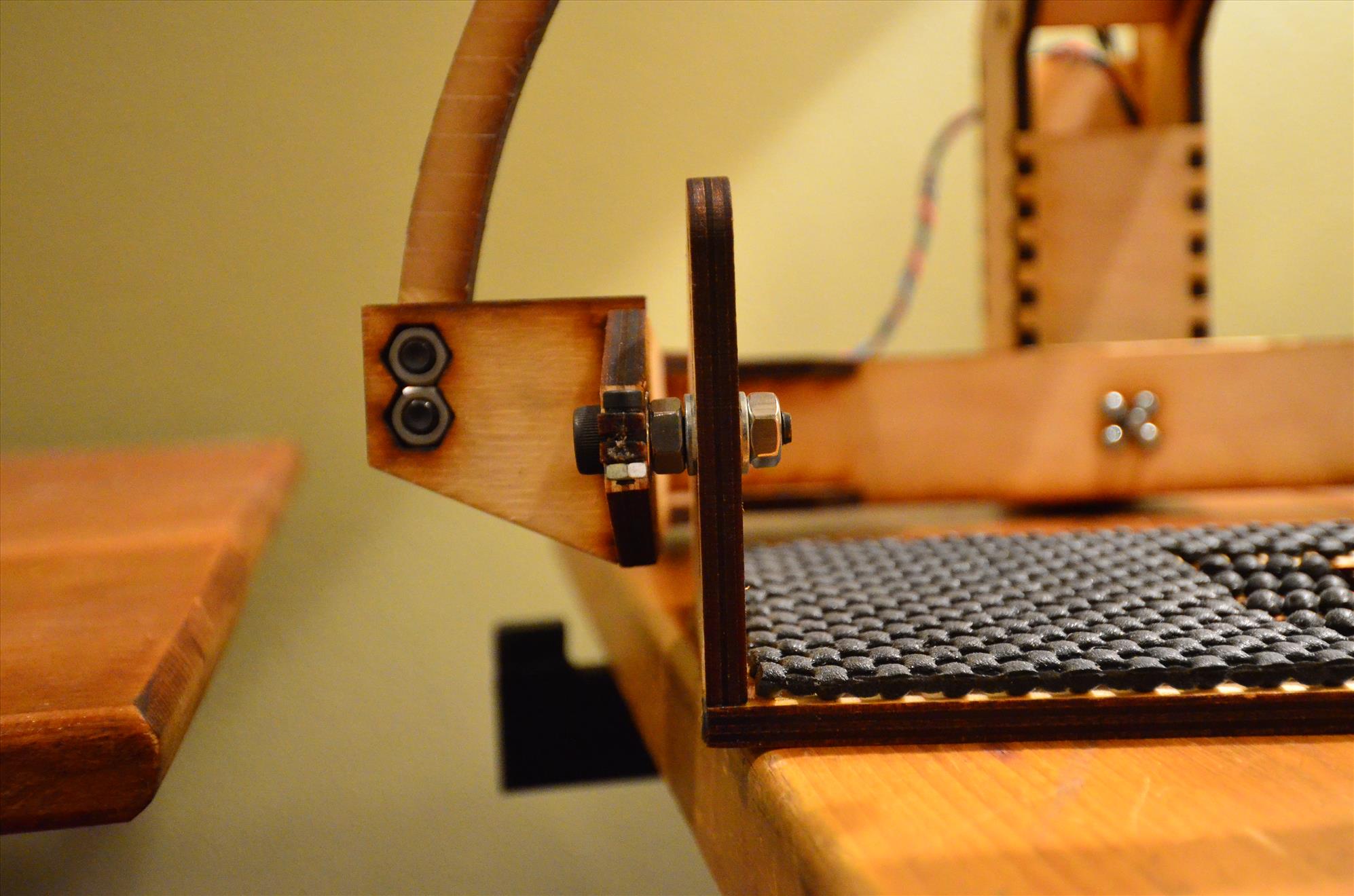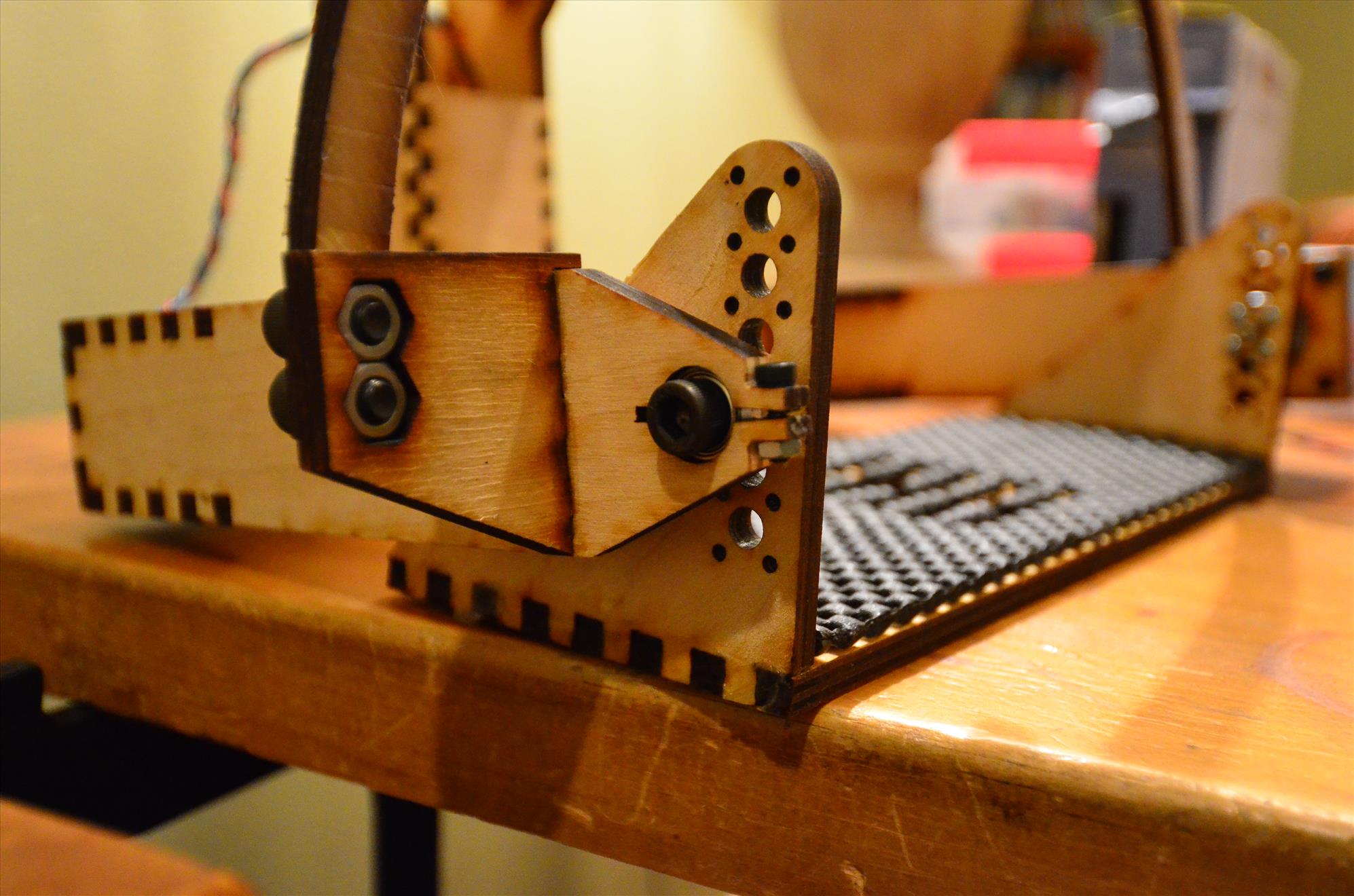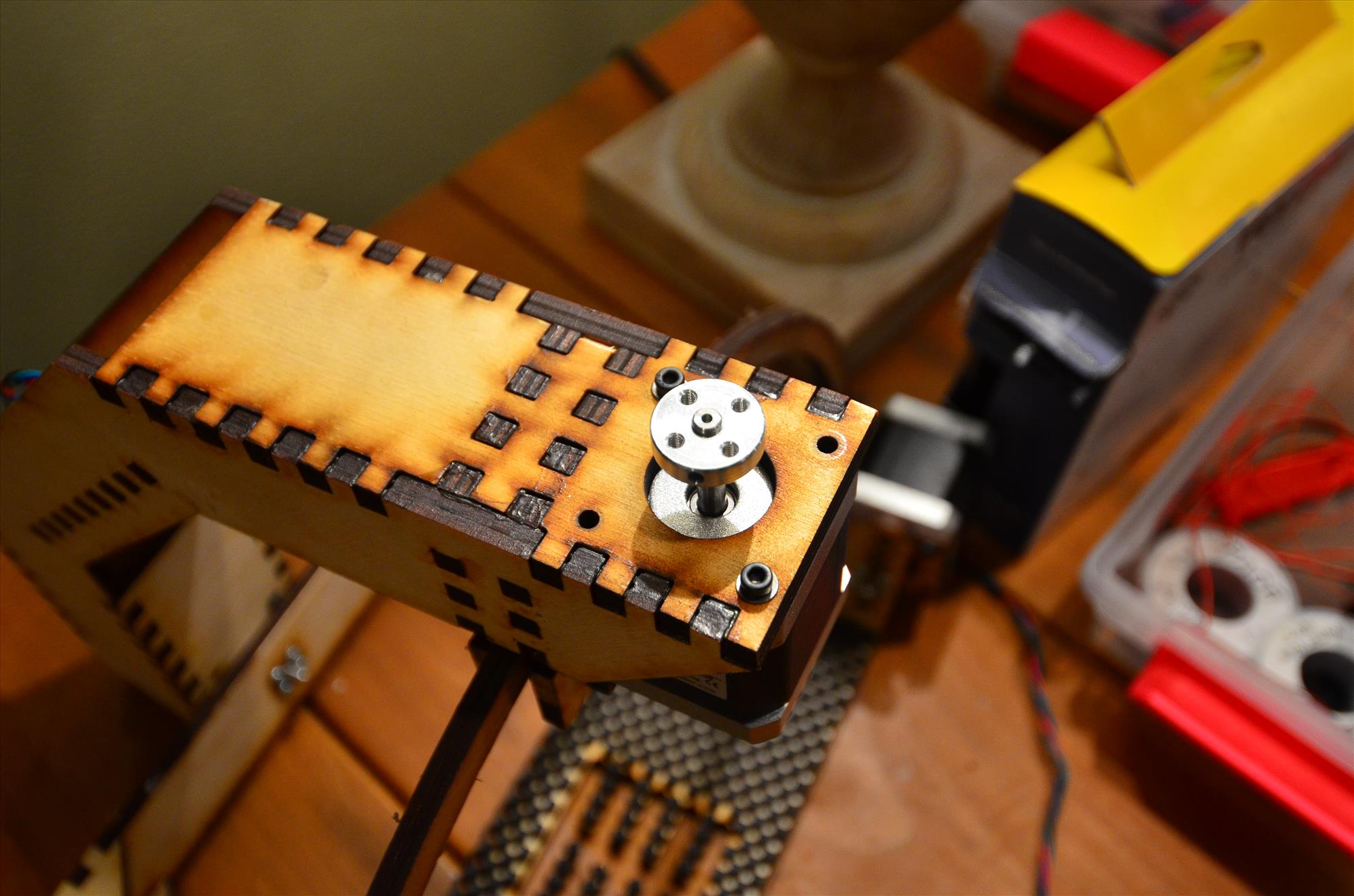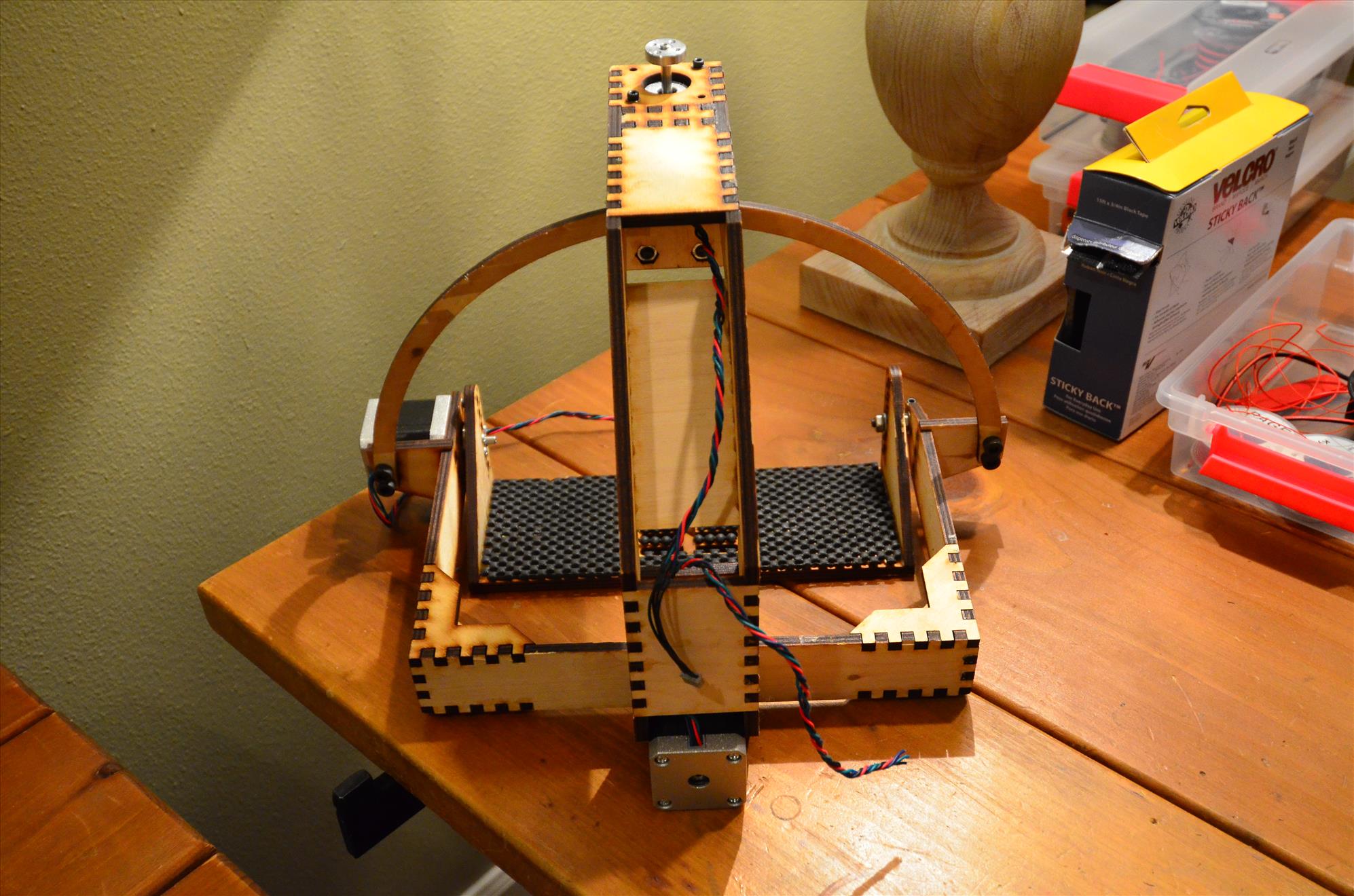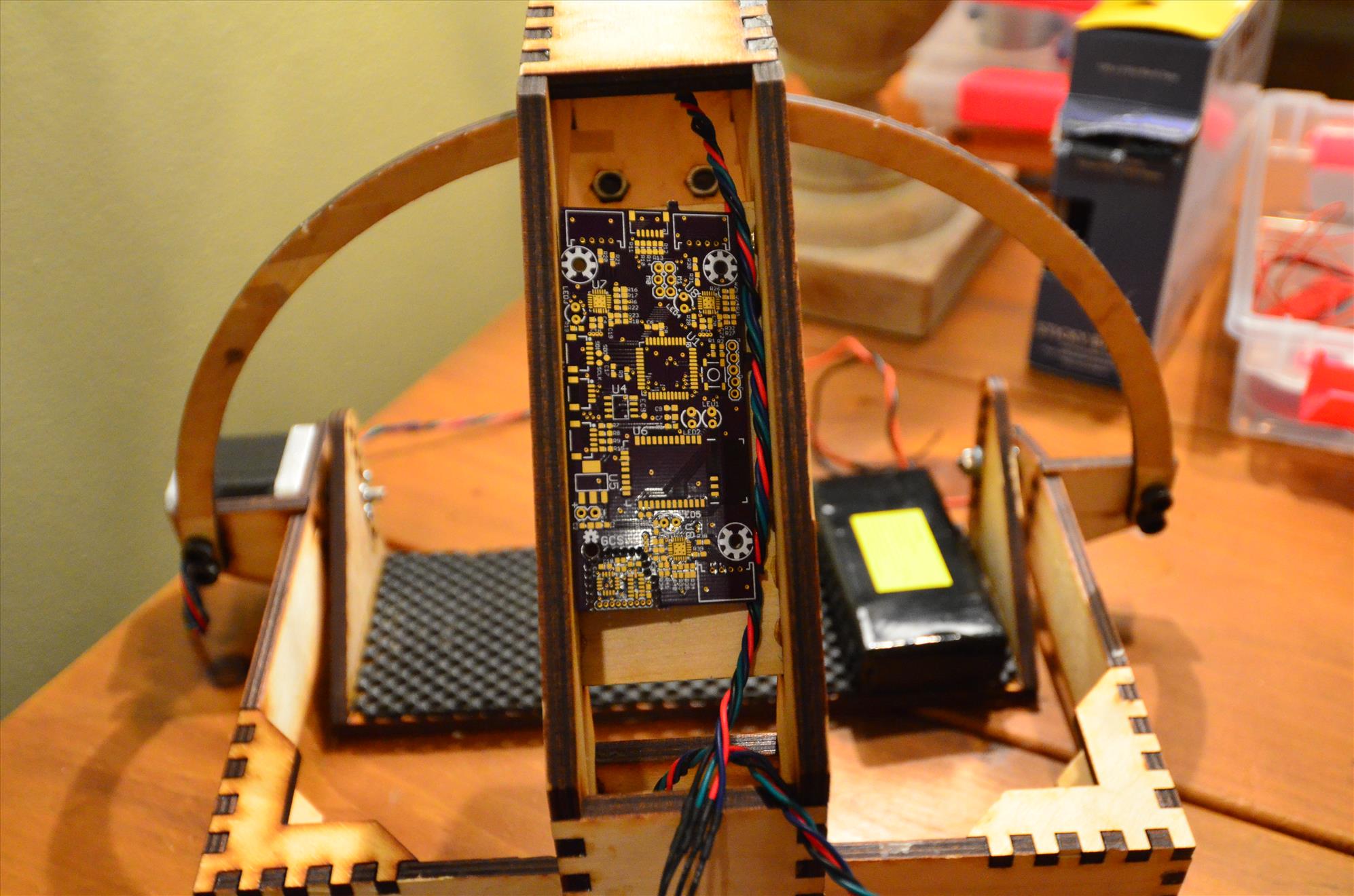 Laser cut baltic birch frame! I drew up designs for the new stepper motors with added bracing and had them laser cut at StudentRND. The whole thing slotted together like a 3D puzzle and all the motors fit perfectly. The hoop arch is for supporting the overhanging weight of the camera (tested to 10 pounds!) and rolls smoothly on 2 shielded bearings and ultra low friction tape. It's large enough to support all DSLR/M43 cameras, even the RED Epic and Sony FS700. All hardware is M6 Allen-head bolts with nuts super-glued in place and M3 for the motor mounts. Go metric.
Already I want to move the top (pan/yaw) motor back another 2 inches or so, the weight of the roll motor and battery create a back-heavy frame, adding a camera would then need to offset that weight as well. So far I've got two motors twitching but there are some power issues to sort out.